If you go to the RUM Performance detail page and there aren't any scatter plot points, the issue is most likely one of the following:
There's No Data in the Performance Trend Graph Above

The first thing to understand about the scatter plot, is it works off of the performance trend graph above. You'll notice the highlighted or shaded region in the graph corresponds to the time period displayed in the scatter plot. However, if there isn't any data in the graph, there won't be any data for the scatter plots. This typically means either:
We are not collecting RUM data on your site, or
the filter criteria you've applied have returned an empty data set. 
If you believe we should be collecting RUM data for your site, and it appears we are not, contact your Blue Triangle Account Representative. If it's an empty data set, check your filters again closely - if you're sure it's what you wanted, then it must be the case there is no data that meets the criteria. 
The Scatter Plot View is Set to Object Level Detail Only
The default view in the "Page Views" scatter plot shows real user measurements in which Blue Triangle also collected object (or resource) level detail. You can see this in the drop down box above the graph - "Object Level Detail Only."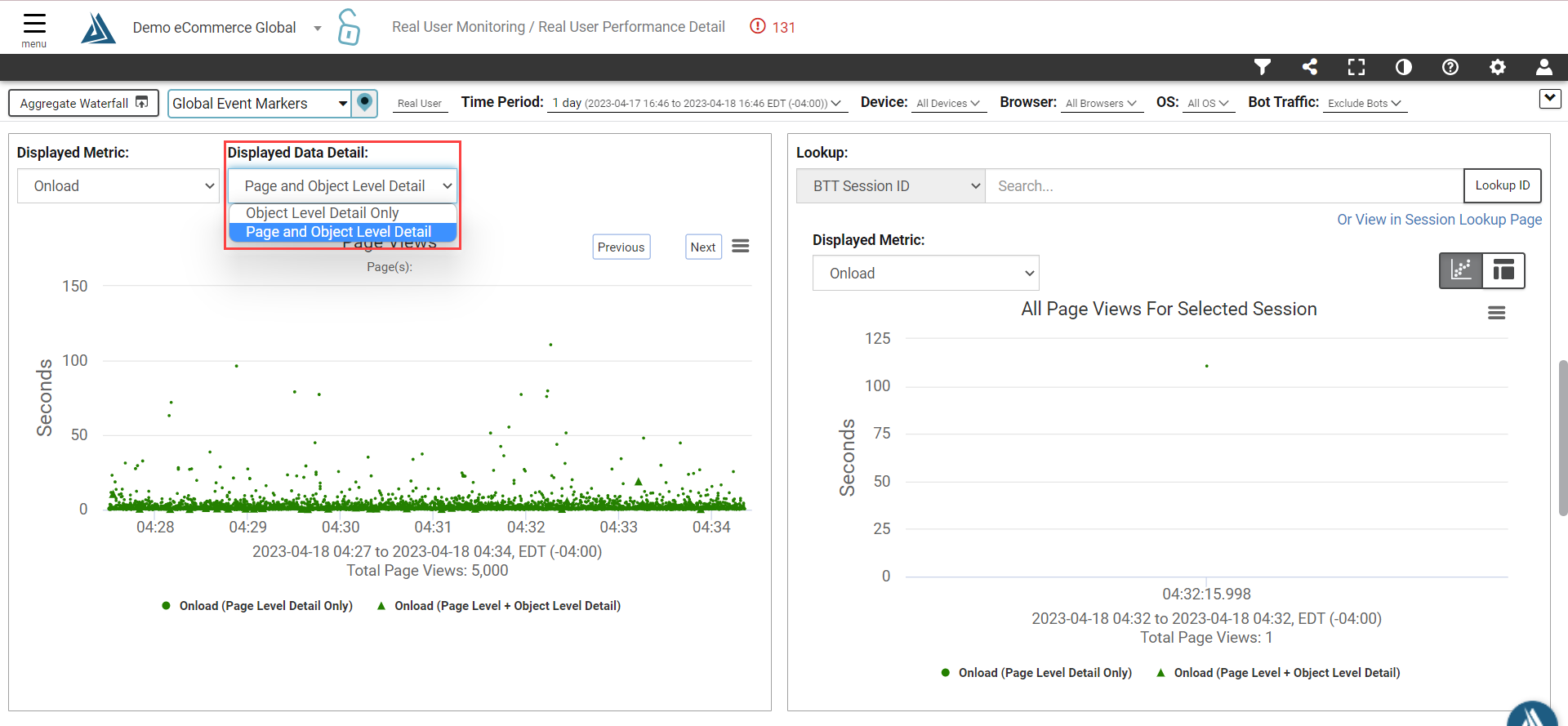 If you see an empty scatter plot, but there is data in the trend graph above, you can change this to show all of your data by selecting "Page and Object Level Detail."
Depending on your Object Level Detail collection percentage, it's possible you may not have any measurements that collected the additional detail during the scatter plot's time period (typically between 5 minutes and 2 hours).
Note the circles represent measurements with page level detail only, and the triangles represent measurements with page and object level detail. In other words, only the triangles will show the waterfall graphs below. 
You're Looking at an SPA or Virtual Turn Page
Another issue you might experience occurs when viewing data for an SPA or Virtual Turn or AJAX call. If there is only one call for the page name configuration, there will be no additional detail to collect. Because of this, you may see the the trend graph above showing a healthy amount of data, but see no points in the scatter plot. Why? Check the drop down above - it could be stuck on "Object Level Detail only." As the previous section explains, change this to "Page and Object Level Detail" to show all available data in the scatter plot.
If none of the explanations above help you understand your empty scatter plot problem, contact your Customer Success Representative, or feel free to contact support here.