Preview: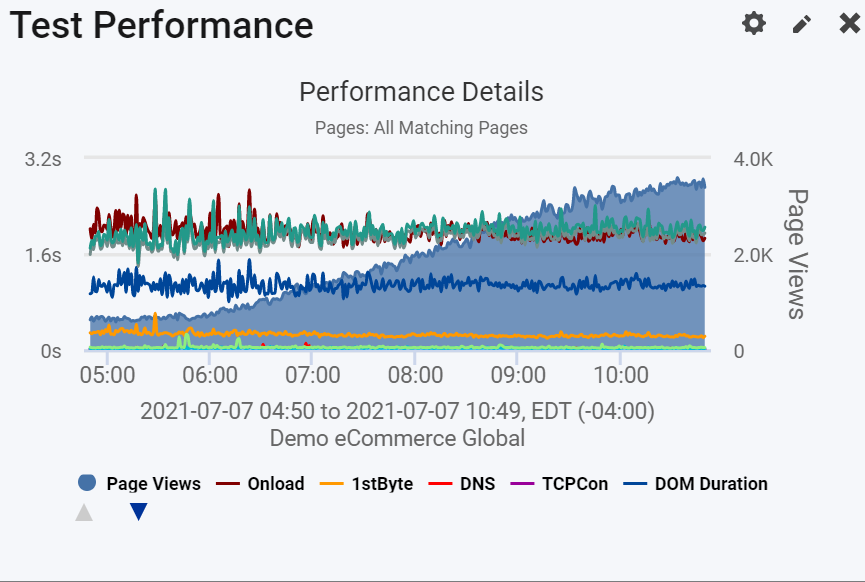 Details:
The Performance Widget is the main graph displayed on both the RUM and Synthetic Performance Detail pages. You can choose RUM or Synthetic data for this dashboard widget. This widget is a line graph with various performance metrics displayed over the selected time period.
If you don't want to see all the metrics at once, you can click the legend items to hide/show the metrics in the graph. When applicable, you'll see additional axes appear to support the various metrics in the legend.
The RUM widget has the following metrics:
Page Views
Page Onload
Time to Interactive
First Contentful Paint
Largest Contentful Paint
Total Blocking
Cumulative Layout Shift
First Input Delay
DOM Duration
Time to DOM Interactive
Time to DOM Content Loaded
JavaScript Errors
First Byte
DNS
TCP
SSL
Redirect
Base Page
The Synthetic widget has all of the above metrics plus the following:
Site Availability over Time
Page Size (Uncompressed)
Page Size (Compressed)
Total # of Elements
Image Size
Total # of Domains
For more information on the metrics shown in this widget, please see our glossary.