Summary
In this guide, learn how to
The Marketing Overview Page gives you a high-level view of how your marketing campaigns are performing.
Overview

The widget at the top shows you high-level numbers over the time period
This includes bounce and exit rate information, revenue, page views and more.
Campaigns
The widget below on the left fills in with your top 4 campaigns. It determines the top 4 campaigns by traffic volume.
To the right is the campaigns over time widget. This shows you a bar graph with the total numbers for each campaign over the time period, and below shows you the same in a line graph. Each line represents each of your top campaigns.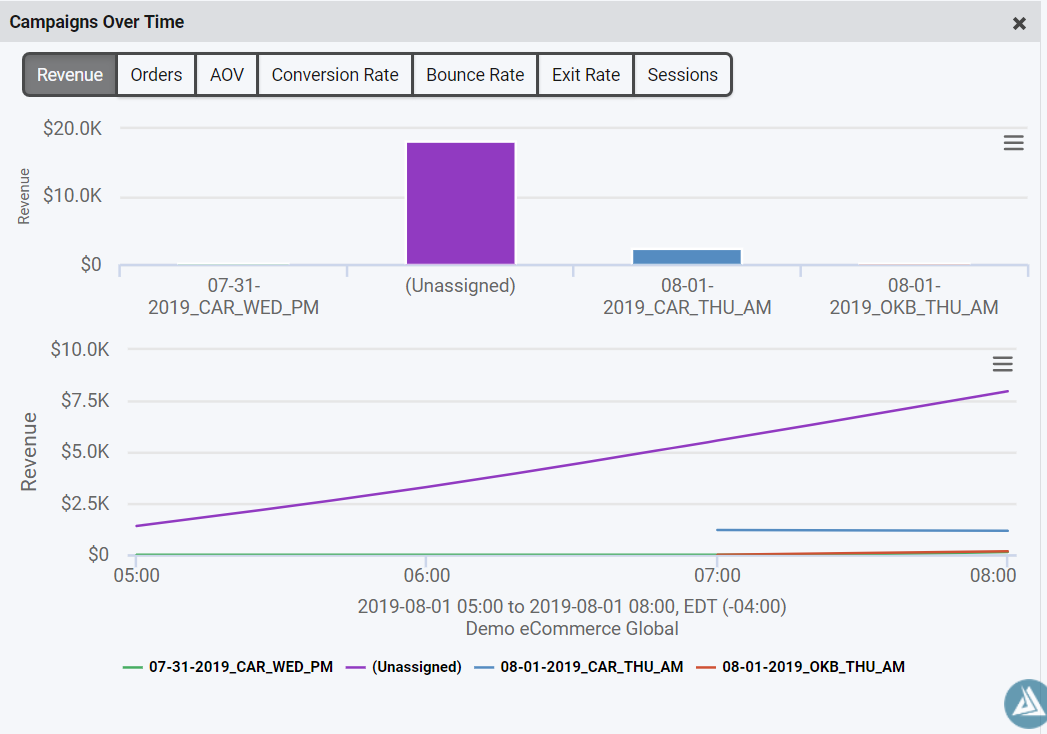 By default you will see the graphs showing revenue. To change the metric, select from the tabs at the top of the widget.
Traffic Source and Traffic Medium Breakdown

These shows you how each traffic source and traffic medium is performing over the time period.
Click Export in the right of each table to save the data
Device Type Graphs
At the bottom of the dashboard we have 3 widgets that show you revenue, conversion rate and sessions by device – Desktop, Mobile and table.

You'll see the totals in a bar graph above and the trend over time in a line graph below. Note the colors of the bars correspond to the device that you'll see trended in the line graph.
Filters
To change the time period, use the selector in the top left of the dashboard.
You can filter down the data to exactly what you need by using the filter options. Click the filter icon in the top right, make your selections and click apply filters to update the dashboard.

Customization
Lastly, you can customize your view in this dashboard by clicking the x icon in the top right of any widget. This will hide the widget from the view, and place it to the side.
You can hide the side panel by clicking the minus icon above.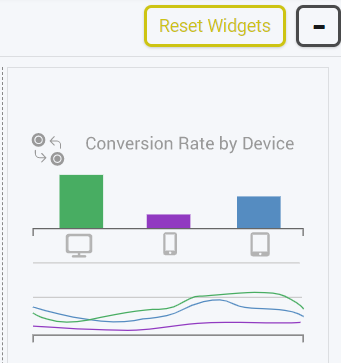 To show hidden widgets, simply click the plus icon, then click and drag the widget back into the dashboard view.
Also, to revert the page to the default view, click the button in the top right "Reset Widgets."