Summary
In this video, learn how to
The Traffic Medium page is used to configure Blue Triangle to track all Traffic Mediums to your site. Naturally, Blue Triangle is automatically categorizing your traffic. This is based on our set of global rules, and these rules define the common ways we have observed traffic medium defined.
To get to this page-
click the Settings Button shaped like a gear in the toolbar at the top of the page
then under the Site Configuration section, click Traffic Medium, listed at the bottom.
The purpose of this page is to augment the global rules, in the event that not all of your traffic is getting categorized as expected. In this case we will be creating a Site-level rule. Rules that you create at the site level will override those in the global.
To create a site level rule
First select the Site Traffic Medium tab.

Then, click Create, and Site Traffic Medium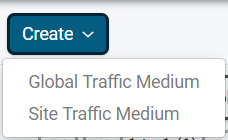 Now we just need to fill out the form. First fill in the name of the Medium. In this example we used Email.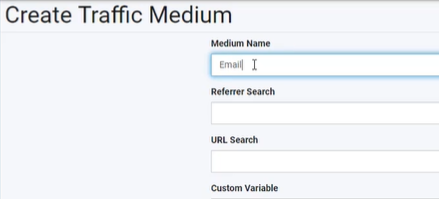 For Referrer Search and URL, enter a url substring match. This could be any full or partial url string.
Next is the Custom Variable. Almost always this can be left blank, but it is available if a more advanced configuration needs to be made. If you need help configuring this, reach out to your Customer Success Manager or email support@bluetriangle.com
Next field we have is Enabled. This is simply if you'd like to configure this but not have it active just yet.