Summary
In this guide, learn how to
The Hierarchy Page shows you an aggregate view of how your web-pages load. You can view this diagram in a variety of formats, and you can see this information at the Service, Domain and File level. For this guide, we'll use what we call the Hierarchy Diagram.
How to Navigate the Hierarchy Page
Let's first get some context. If you arrived on this page by clicking the "View in Hierarchy" link, you will be viewing the hierarchy for one page measurement. Otherwise, you will see our standard aggregate view.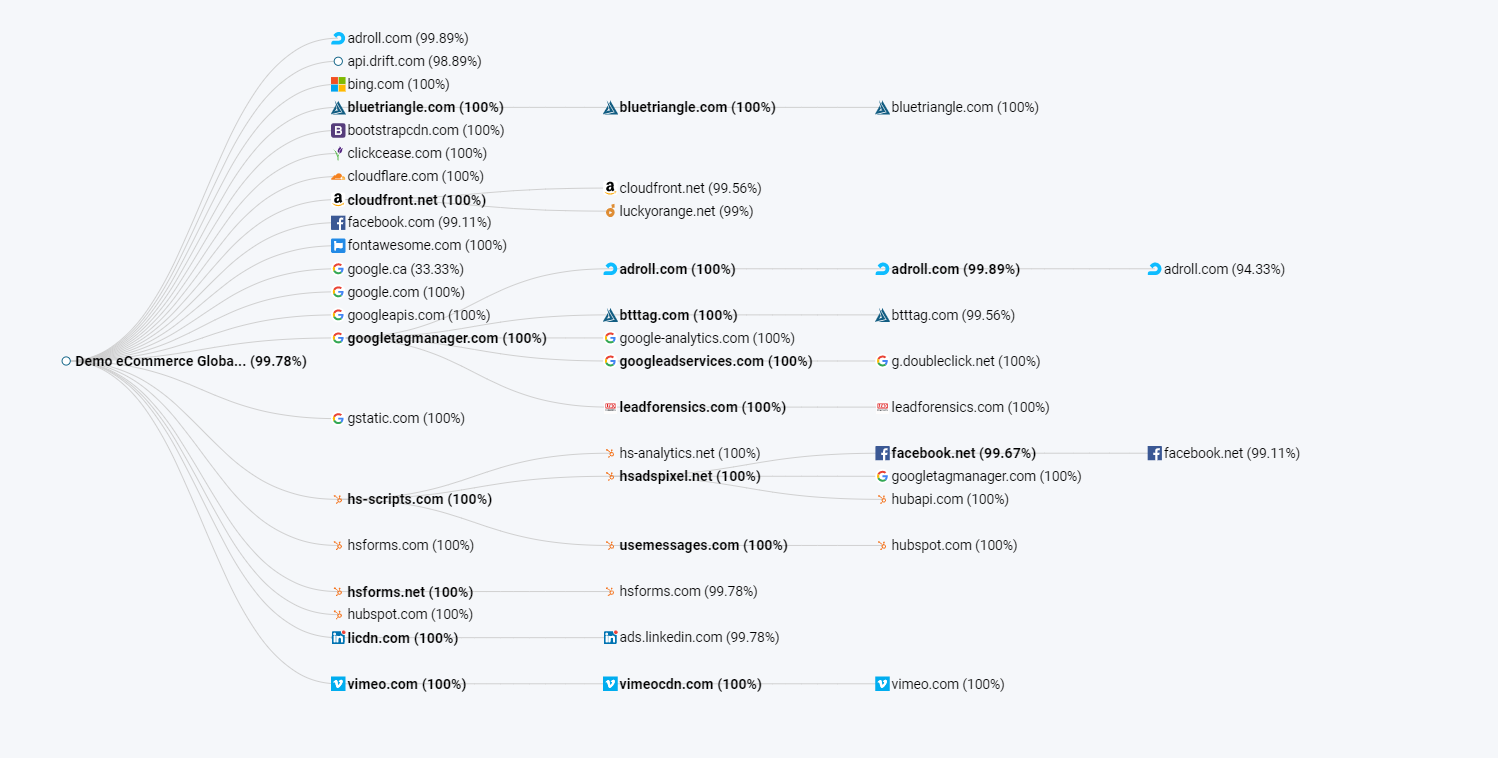 Here we are looking at Synthetic Data for the past 24 hours for the Blue Triangle Home Page. And by default, we are only showing data that appeared on the page at least 10% of the time. This is the minimum session percentage. Sessions here refer to synthetic page measurements.
Now, in the top left we can switch between the Service, Domain and File level view by clicking the tabs.

We can expand and collapse the hierarchy by clicking the buttons.
Also, we can search for items using the search bar above.
Looking closer at the diagram, we see percentages next to each item. These percentages indicate the amount of time each Service/Domain/or File appeared on the page. You can hover over the elements to get more information.
This diagram enables us to see how the page is loading and how elements are calling each other.
To zoom in an out, click control and scroll with your mouse. You can also click and drag to move around.
In the File Level view, you can click one of the elements to bring up a side panel to the left with more information.
Filters
You can change the page you are viewing data for on this screen, and switch the time period by clicking the filter icon and using the filter menu.